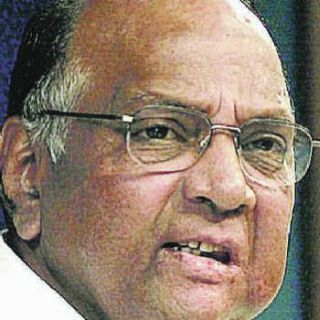 Nationalist Congress Party chief Sharad Pawar's decision to join a rally with leaders of the Third Front in Bhubwaneshwar means that his marriage of convenience with the Congress party is almost over. This has also meant that a third alternative to both the BJP and the Congress may be within striking distance of forming a government at the centre.
The United Front government in 1996-1998 had given a glimpse of such an alternative although it had the support of Congress from outside. An unknown figure like HD Deve Gowda had become the Prime Minister of India surprising even his party colleagues. The two national parties the Congress and the BJP could not digest the idea of not having the Prime Ministerial chair with them.
This election may be a repeat of 1996 and make both Congress and the BJP sit together on the left side of the speaker in the Lok Sabha. We may also see major post poll alliance and the pre poll friends might turn foes. Some parties like Lalu's Rashtriya Janata Dal and the Paswan's Lok Janshakti Party should not have any ideological differences in joining the The Third Front. In case the Congress and does not retain its 145 seat tally the Lalus and the Paswans might switch sides.
Now the major challenge for the Third Front will be to keep the joint tally of the NDA and UPA under the magic number of 272. The problem however lies in the state rivalry. The DMK and the AIADMK cannot be on the same side neither can the SP and the BSP. Since Tamil Nadu and Uttar Pradesh contribute 119 seats to the Lok Sabha a vote divide here might prove expensive for the Third Front.
The present tally of the Third Front including the Biju Janata Dal and the Nationalist Congress party stands at 120 odd seats. But the TDP, BSP and the AIADMK had performed disastrously last time and they are expected to up their tally this time around as a lot has changed in all the states. Mayawati has got her cast equation right, DMK will face anti-incumbency in Tamil Nadu and has more problems with the PMK parting ways. Chandrababu Naidu's party can only go up this time from their dismal 5 seats last time.
All in all the Third Front seems to be strengthening itself with every passing day and Congress amd the BJP having a tough time keeping allies with it. The main challenge for the Third Front is the large army of Prime Ministerial candidates its has among its ranks. Also formulation of program and polices that appeal to the castist, the communist, the regionalists and above all opportunists doesn't seem to be easy.

Also Read...

The wanna be Prime Ministers

National Parties; What National Parties?

Maya wants to spread her 'Mayajal'