By: Subhadeep Bhattacharjee

15th January 2010 will be remembered as one of those days which has involved one and all in a majestic celestial occurrence. The Solar Eclipse has something for everyone, a huge opportunity for the scientific community to do some research on the sun and the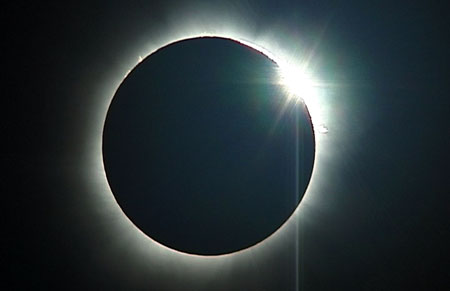 solar system, an god sent opportunity for the astrologers to make some extra buck and above all opportunity for the ultra superstitious to practice some traditions which have been followed over centuries with very little or no questioning.
The solar eclipse is also has turned mythical as well as a spiritual event in India coinciding with the ongoing Mahahumbh Mela. Haridwar which has seen a huge rush of people for Kumbh mela took a holy dip during the solar eclipse as it is a very pious act. It is very auspicious, it is very fruitful and it can get one salvation. Others stayed indoors meditated and performed havan in what they believed to be a inauspicious period.
No one perhaps enjoys a Solar Eclipse more than the scientific community for whom it is an opportunity to study rare phenomena in the solar system. The Indian Space Research Organisation (ISRO) will launched a series of rockets from its two centres to study this solar eclipse and its repercussions. These were launched from Sriharikota in Andhra Pradesh and Thumba in Kerala. Other international space agencies like the NASA were taking pictures of the Sun and broadcasting it for the audience to see.
For thousands of shutter bugs around the world it was a never to be missed opportunity to capture a magnification celestial event through their lenses. Many video journalist and photo journalist armed with their equipment had thronged to those parts of the world from where the Eclipse was best visible. Astrologers were not left behind in making this event to make their wallet bulkier. After all, even the non-believers don't mind reading astrological predictions.
For the media it was another opportunity to soar its TRP ratings by giving humongous coverage to the event from across the world and giving them the bits and pieces of the eclipse. There was a sharp contrast in the reporting style of the vernacular media and the English media in India. While the folks speaking Queen's language stuck to facts and slammed myths, those broadcasting Hindi and other regional languages tried to cash in on myths and superstitions.
One thing which is true to all these groups is the fact that most of them won't witness such a Solar Eclipse in their lifetime. This solar eclipse was the longest solar eclipse of 21st century and also he longest ring-like solar eclipse of the millennium. So for all those who have missed this majestic site today you might have to wait a little longer for the next such event which NASA said would occur only after December 23, 3043!