By: Subhadeep Bhattacharjee


Before the start of the 2007 World Cup in West Indies India's most successful captain Sourav Ganguly said that the biggest difference between the 2003 runner-up squad was the presence of Mahendra Singh Dhoni. Although India crashed out of the tournament in the first round Sourav's quote spoke volumes of the swashbuckling wicket-keeper batsman from Jharkhand. It is no wonder that in the same year Dhoni was handed the responsibility of leading in the inaugural T20 World Cup. R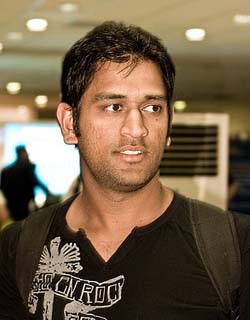 est they say is history as Dhoni's men lifted the cup defeating arch rivals Pakistan in a dream final.
Cut to January 2010 when Bangladesh have set India a stiff target of 297. Chasing India struggle at 53 for 5 when Captain Cool walks into the middle. He starts rebuilding the innings with Virat Kohli, stays till the end unbeaten on a hundred ensuring the Bangla tigers don't have any reason to dance in the streets of Mirpur. Only half a decade back India used to choke under pressure while chasing but MSD along with Yuvraj Singh has changed the story completely. Dhoni belongs to a rare breed of cricketer who perform better under pressure. He is rightly being tagged as
'Finisher.'
Dhoni is one of the rare batsman who averages more in the second innings than in the first and the only captain to average over 60 in One Day Internationals. What makes this feat even more special is the fact that after becoming the captain, Dhoni has played more as a floater and not any permanent position in the batting order. Such flexibility might have adverse effect even on the most seasoned cricketer but Dhoni's performance remains consistent.
One thing which separates Dhoni from all the other Indian batsman is his ability to perform under pressure. Even the likes of Sachin Tendulkar, Sourav Ganguly, Rahul Dravid and Virender Sehwag have shown signs of choking under pressure by Dhoni never shows an iota of nerves. Dhoni's approach to pressure matches seems to be more Australian than Indian. Although an aggressive cricketer by nature, Dhoni is never seen loosing his cool on his team-mates and opponents. No wonder he was handed the baton to lead the team ahead of experienced campaigners like Yuvraj, Sehwag and Harbhajan.
In the early part of the decade Indian team learnt to win against the best of the opposition and Sourav Ganguly was said to have brought in the aggression to the team. Players like Sehwag, Harbhaja, Zaheer and Yuvraj came from what became known as the '
Ganguly School of Cricket.'
Dhnoni seems to have put his feet on the accelerator and the team seems to be pulling out victories from near impossible situation. Virat Kohli, Ravinder Jadeja seem to excel under pressure and we can rightly say the
'Dhoni School of Cricket'
seems to have arrived.