By: Subhadeep Bhattacharjee


After the most closely fought elections in the country's history and tug of war with the allies over ministerial berths Manmohan Singh's team is finally ready. After the initial swearing in ceremony of on the May 22 which say only 19 heavy weights take oath it was the turn complete team to take oath at the Rashtripati Bhavan from President Prathiba Patil.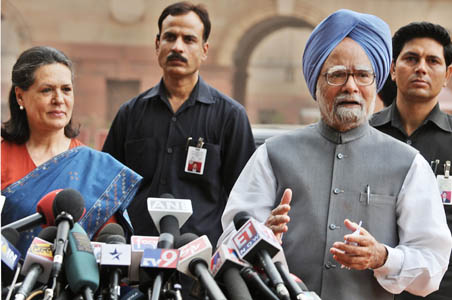 14 Cabinet ministers and 45 Minister of State were sworn in today taking the total to a whooping 79 in the 543 member house which is a record. Three DMK candidates M K Azhagiri, Dayanidhi Maran and A Raja were sworn in as Cabinet Ministers. This after DMK had stayed out of Friday's swearing in due to dispute with Congress over ministerial berths.
Other well known faces to take oath were former J&K Chief Minister Farooq Abdullah, former Maharashtra CM Vilasrao Deshmukh, Former Himachal CM Virbhadra Singh, Pawan Kumar Bansal, Jairam Ramesh. Also among the sworn in ministers was Shashi Tharoor whose destiny seemed to lay in the Indian parliament rather than becoming the Secretary General of the United Nations.
The youth brigade was not far behind with Sachin Pilot, Agatha Christie Sangam, Jiten Prasad, Jyotiraditya Scindia The government seems to be a rich mix of young and old with former Karnataka CM SM Krishna being the oldest at 77 who was already greying at 50 when the youngest Agatha Christie Sangam who is 27 was born.
The swearing in of 60 ministers could not have gone through without its share of goof ups. Congress' Jairam Ramesh who was fumbling forgot to sign the register after taking oath while V Narayansamy requested time from the President to settle his papers. The best of the day however came from Trinamool Congress MP Saugata Ray who did not even wait for the President to give him the official cue while taking oath.
Now with the swearing in ceremony completed the country has got a government for the 15th Lok Sabha under the leadership of Dr Manmohan Singh. The immediate tasks will be to revive the economy and overhaul the security set-up in the country. Mahmohan and his team have to live up to the faith shown by the people of the nation upon them.