By: Subhadeep Bhattacharjee

One of the best ways to express protest against politicians these days seems to be by throwing a shoe at them. J&K chief minister Omar Abdullah became the latest victim in the shoe gate when constable Abdul Ahad Jan hurled his shoe at the CM. Omar had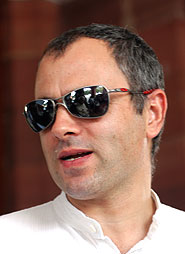 just finished unfurling the national flag and was in attention position as the National Anthem was being played. He now joins the elite club with former US President George Bush, Home Minister P Chidambaram, Pakistan President Asif Ali Zadari.
In all these cases the shoe thrower have been hailed by the people who have had their recent against these leaders. Jan who is said to be a mentally disturbed cop as been hailed by people who have been agitating in the valley for over two months now. The protest which have claimed close t50 lives have exposed incompetence of the J&K government. Omar who does the most thankless job in the world (being J&K's CM) has been criticised for his actions or rather in-actions in the last few months.
For the protestors it is perhaps the best way to register their protest against the government but does very little to change governmental policies. Abdul Ahad Jan might have done personally done himself a lot of good but he has put a slap on Kasmi's face in front of the entire country. In the last two months Kashmir has been in the news for all the wrong reasons and this incident will do very little to get rid of the bad publicity.
These sort of incidents have no place in a democracy, if one still exists in Kashmir valley thanks to the two Ms militancy and military. The Kashmiri seperatists leaders might hail this act but this will hardly make any change in Kashmir. A few frontpage headlines will be published on the issues and it will find place in a few blogs of people like mine. Where is the achievement in all this?
One thing it will surely do is make the leaders more inaccessible to the ordinary Kashmiris. It is easy for the security forces to chek for bombs and grenades in such places than to judge the intent of a person to throw a shoe. It is high time people in Kashmir realise that they alone are responsible for how their community is looked at by the world. Weather they want to be looked as dwellers of a beautiful place of secessionists as many people drub then. The choice lies with Kashmiris