By: Subhadeep Bhattacharjee

Manipur is no stranger to blockade of the highway but the last two months have quite a nightmare for the state. The economic blockade called on by the Naga students pushed Manipur to the verge of breakdown with stocks of all essentials commodities, including baby food and life saving drugs, almost drying up. It is no surprise that this agitation was supported by the militants o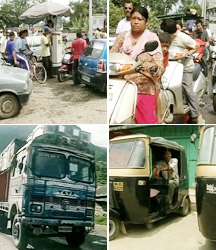 f the NSCN (IM) which ensured that no one had the courage to defy the diktat which lasted for more than two months.
The problem had started after NSCN IM general secretary Thuingaleng Muivah wasn't allowed to visit his native village by the Manipur government led by. There was clash between the protesting Nagas and the security forces in Manipur which had led to the killing of a few people at Mao gate which stands between Nagaland and Manipur. Muivah was barred from entering his native villages as he has been demanding the integration of all Naga dominated in the North Easr into the autonomous Nagalim. This includes parts of Manipur including his village.
With Manipur on the verge of collapse, New Delhi felt it wasn't time to play safe anymore and decided to send in troops to clear NH 39 which was ceased by the Naga organizations. Fearing counter strike by the security forces these organizations have called off their agitation and lifted the blockade from the highway. New Delhi which is engaged in peace talks with the Naga rebels was playing safe all these days and never had showed signs of using forces against the Naga rebels and the student organization.
The question that comes to the mind is why New Delhi didn't take such a call earlier which would have not forced Manipur into this crisis. The state has every right to protect its territorial integrity under no pressure to allow a terrorist to visit his village. The Centre should have firmly stood by Manipur on the issue and not bowed down to the demand of the terrorists for over two months. Peace talks with the NSCN IM cannot come at the cost of hunger in Manipur. The Centre has equal responsibility towards Manipur and should have sent in troops earlier.
The Naga Students Organisation and other people who had supported this agitation should realise that they are also a land locked state and a similar kind of agitation in Assam could bring them down on their knees. With Nagaland not even producing enough food to support itself such groups shouldn't be indulging in such brand of pressure politics. They can become even worst victims of this if organisations in Assam call for a similar blockade.